Creative Collaborations
Team-Building That Transforms
Creative Collaborations is the only team-building program that unites your team in a groundbreaking, goal-oriented, creative process. It results in a professional finished piece of art that reflects your mission and vision.
How important is your mission and vision, and how do you support your team in sharing it?
Welcome to Creative Collaborations, a Creative Awakenings program that was inspired by "The Spread Your Wings Project," my 501(c)3. The Spread Your Wings Project creates massive pairs of angel wings in community with children and vulnerable populations.
Creative Collaborations was developed specifically for corporations and hospitals who have a strong, caring corporate culture.
As a professional artist, bestselling author, creativity facilitator and speaker working towards a master's degree in art therapy, I've devoted my life to helping others enjoy the profound benefits of creativity and art-making. These can include decreased stress and anxiety, increased well-being, a greater sense of connection and the joy of being fully present in the moment.
When team-building becomes an interactive, professional art-making experience, these benefits are even more accessible.
Creative Collaborations facilitates each participant in using various art supplies to help them visually express the heart and soul of your company, uniting in an unforgettable community arts event. With various art supplies, each individual will visually express the heart and soul of your company in relation to themselves and each other, uniting in an unforgettable community arts event.
On site, the creative expression made by each team member is integrated into a large work of art that comes together before everyone's eyes.
THE ART WE BEGIN AT YOUR EVENT IS PROFESSIONALLY FINISHED INTO A HIGH-END WORK OF ART THAT REFLECTS YOUR CORPORATE VALUES.
INQUIRE ABOUT CREATIVE COLLABORATIONS
In real time, every member of your team will experience the transformational power of Creative Collaborations:
The profound benefits of creativity and art-making

Increased creative problem-solving

Increased trust, bonding and sense of connection

Increased feelings of respect, empathy and compassion
Greater inspiration and motivation

Tapping into and expressing their inner gifts

Strong sense of pride and accomplishment

Creative integration and expression of your mission and vision
By sharing a joyful, healing experience that unites your team in something bigger, you are supporting them in accessing their inner gifts, apart and together.
"I didn't know anything about community art-making before the Chronicon event. What a wonderful way to share who we are as a part of something much bigger. The act of writing my "expression" and putting it on the canvas was incredibly powerful. Thank you!"
From Carey B., Healthline/Chronicon event:
"It felt wonderful to express how I feel about living with a chronic illness without having to "say" the words out loud. Seeing my written expression on big piece of canvas with everyone else's made me feel that I am not alone in my journey!"
What Makes Creative Collaborations Completely Unique?
Creative Collaborations is the only corporate creativity event that unites your guests in collaborative art-making. This completely unique program inspires imagination, provides a joyful, healing experience and results in a professionally finished work of art that reflects your mission and vision.
LED BY AN ARTIST/CREATIVITY FACILITATOR
Elizabeth Bryan-Jacobs is a nationally known Earthworks artist with art in private and public collections. She is the founder of Creative Awakenings, the groundbreaking program she has taught privately and at high-end venues like Canyon Ranch and The Golden Door Spa for over a decade.
Elizabeth is now pursuing a master's degree in art therapy.
UNIQUE, TEAM-BUILDING BENEFITS
Creative Collaborations is an inspirational, trust-building experience. Your group will experience improved communication, acquire new problem-solving skills and enjoy a sense of pride and accomplishment. Other benefits can include decreased stress and anxiety and a newfound freedom of expression.
IT'S LIVE, INTERACTIVE ART-MAKING – AND IT'S FUN!
Elizabeth's proprietary processes will help your group joyfully touch and express their inner gifts – apart and together. At your event, they will unite, communicate and collaborate on the creation of a beautiful, unique piece of art that reflects your corporate culture and mission.
This art will be professionally finished by Elizabeth. When installed in your offices, this profound work of collaborative art will act as a visual reminder of your company culture…and every individual who contributes to your message.
IT'S HEALTHY!
The many benefits of creativity are well-researched and profound. Your attendees can de-stress as they express themselves. They will also learn how to reap the well-being benefits of creativity in their daily lives.
PASSION
Elizabeth's greatest passion is helping others benefit from creativity and mindfulness practices. She has done this for nearly two decades through Creative Awakenings programs and more recently through "The Spread Your Wings Project."
TRANSFORMATIONAL
Art-making is a transformational process that can help us express ourselves when we don't have words. Collaborative art-making super-charges this experience by uniting participants in making something bigger than themselves. When we make art together, we can build trust, bond, communicate and problem solve more effectively. We collectively experience how art can transform, discovering new ways to process stress and cope with anxiety.
ENTERTAINING LEARNING EXPERIENCE
Elizabeth shares a lifetime of knowledge about the therapeutic power of creativity, supporting attendees in understanding the far-reaching potential benefits of creativity – and, how to access them at any time.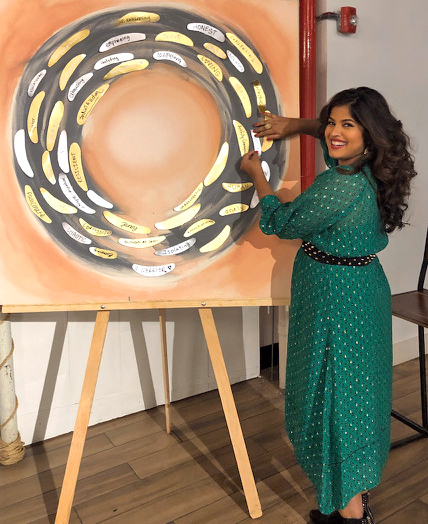 Nitika Chopra, founder, Chronicon
From Ian Hockley, Founder, Dylan's Wings of Change/Wingman
"It is wonderful when two missions come together. We were so fortunate to be connected with Elizabeth, Bobby and Spread Your Wings and could not be any happier with the outcome. From concept, through planning and the painting event and then the final unveiling, this project was a joy to be part of. The Wings show the beauty that humanity can create when it comes together."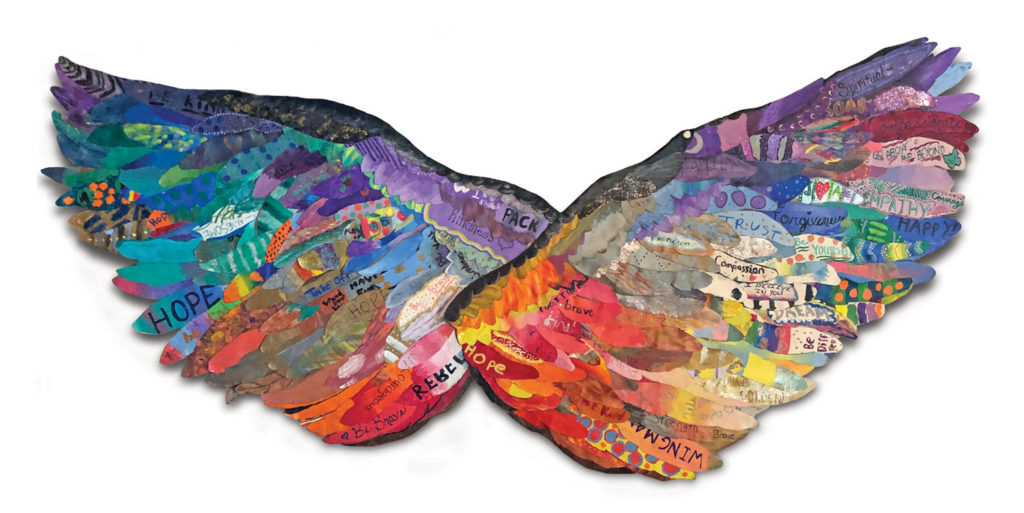 Creative Awakenings: Creative Collaborations brings The Joy of Creativity to your group – and, the gift of beautiful art to you.
About Elizabeth Bryan-Jacobs
Elizabeth Bryan-Jacobs is a nationally recognized Earthworks artist with works in public and private collections. She is passionate about communicating the relationship of the human body and spirit to nature and the earth in all creative endeavors.
Elizabeth is currently pursuing a masters degree in art therapy with an emphasis on the integration of art therapy, mindfulness practices and related neuroscience. She pioneered the field of Creative Behaviorism, a proprietary methodology that awakens the creative process in artists and non-artists alike, maximizing their human and spiritual potential. To apply these principles with individuals and groups, she developed Creative Awakenings™, a program that integrates this methodology with various wellness modalities. Creative Awakenings has become a highly in-demand program that she teaches at exclusive resorts and spas as well as in corporate retreats.
Elizabeth has created Community Arts events and projects for the Los Angeles Home of the Junior Blind, the Boulder City Veteran's Home in Nevada, and with Sunrise Children's Hospital in Las Vegas. "Spread Your Wings" was launched at Dell Children's Hospital, "Art of Giving" event in 2017, breaking all fundraising records. "Spread Your Wings" recently partnered with Dylan's Wings of Change and Wingman, a foundation borne of the Sandy Hook tragedy.